Red Baker Propane

Providing Oklahoman's With Propane Since 1957
A.S. Red Baker, along with his wife Gertrude, founded Red Baker Propane & Butane Company in 1957 in southwest Oklahoma City on the old Gilliam place.
Not a stranger to the propane industry, Red began back in the 1940's working for Clanton Propane on 29th Street.  In the early 1950's, he began hauling oilfield fuel all over the state for Consolidated Propane.
Then, an opportunity of a lifetime began in 1953 when Bill Elkins at Consolidated Propane sold the company's domestic propane route and a bobtail truck to Red and partner, Lee Stone, operating under Baker Propane.
By 1957, Red bought his partner out and so began Red Baker Propane & Butane Company.  That same year, youngest son Roy became part of the family business after graduating high school.  The next year brought growth, and by the summer of 1959 the company moved to our present location on S. Sunnylane Rd.  Oldest son Ralph joined the company in 1961.
Then, by July of 1964, the company became incorporated with the name as we know it today: Red Baker Propane, Inc.
The Baker Family made this propane company a family tradition.  Red and Gertrude have since passed away.  Since April of 1997, Ralph is enjoying retirement after serving 35 dedicated years.  Roy continued operating the business until his death in January of 2002.  Roy dedicated 45 years of his life serving our many customers.  The family business and its traditions live on with Roy's daughter, Karen, who followed her dad's footsteps, joining the business in 1977.
Tradition is a big part of our company and we take pride in treating our customers like family. Third and Fourth generations today, Karen and son Trampas, carry on the tradition that Red Baker started over 60 years ago. We are very pleased to say we are 100% family owned and operated, delivering propane rain, sleet, snow or shine. We are local folks, offering quality products and dependable, friendly service. We take pride in serving our customers needs, whether it's delivering propane gas, filling bottles, or other services provided. We look forward to serving our customers for many more years to come and thank you for allowing us to service all your propane needs.
KAREN BAKER
Karen Baker serves as Chairman, President, and CEO of Red Baker Propane, Inc.  She began her career officially with the company in 1977 as the Accounts Receivable Clerk, Customer Service, Dispatcher, and Fuel Rack Attendant.  Her greatest mentor, her dad, as well as being mentored by her grandpa and uncle, Karen leads the company with loyalty and appreciation toward all employees while achieving to deliver more energy and service solutions to attract new customers and meet the needs of existing customers.
Raised with a strong work ethic instilled in her at an early age, she grew up farming and helping her dad set propane tanks and deliver gas since she was a little girl. A lifelong resident, Karen is actively involved in the Cleveland County community.  She serves in three ministries at her church, and is a lifelong supporter of 4-H and FFA youth.
Karen Baker
Chairman, President, CEO
Office: (405) 677-5277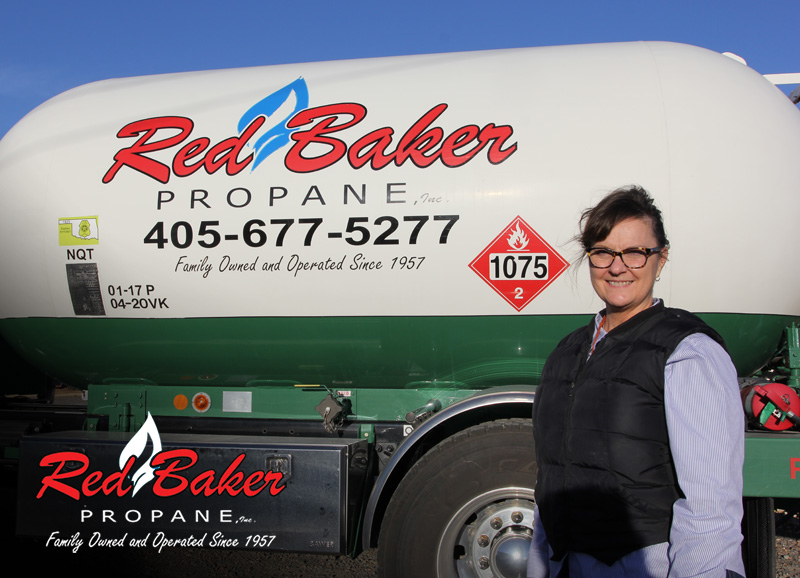 TRAMPAS BAKER
TRAMPAS BAKER grew up in the propane industry, always following his grandpa's footsteps.  His career began in 2000, at Red Baker Propane, Inc., at the age of 16, as a fuel handler and service technician/ installer assistant, and by age 18 was licensed in propane installation.  In 2005 Trampas became a bobtail delivery driver, and moved one year later into the transport driver role, hauling propane from the refineries to our storage facility.  Fourth generation strong, in 2019, Trampas moved into the co-manager position and Operations Supervisor.  Trampas is dedicated to the safety of the company and to the safety of the customers.  He is very humbled and proud to carry on the family legacy.  Trampas also farms and ranches full time running a cow/calf operation.  As well, he enjoys starting colts and finishing ranch horses.
Trampas Baker
Co-Manager, Operations Supervisor
Office: (405) 677-5277
JERRY
Jerry  joined Red Baker Propane, Inc. in September of 2014 as a bottle rack attendant, cylinder repair tech, and yard attendant. He has lived in Oklahoma all his life, with the exception of serving 4 years with the US Navy. He retired from the Daily Oklahoman in 2005 after serving 40 years. From there, he was a crane inspector until 2009. He actually pretended to be retired from 2009 until joining our team in 2014.
He and his wife live east of Oklahoma City where they have resided for over 30 years.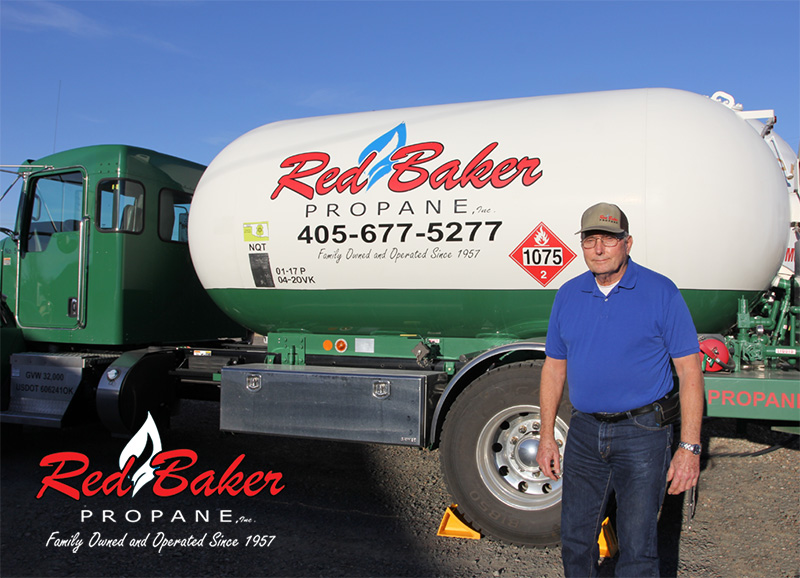 TYLER
TYLER  joined Red Baker Propane, Inc. in October of 2017 as a bobtail delivery driver.  Although he was born in Texas, he moved with his family back to Moore, OK soon after.  His family are lifelong residents of Moore.  Tyler enjoys riding 4-wheelers, camping, hunting, fishing and just about anything outdoors.  When younger, he loved to race dirt bikes and 4-wheelers and helped his dad race shifter karts.  Tyler graduated from Westmoore High School.  While still in school, Tyler began learning the cabinet building business working for his dad.  He is a certified welder and built trailers, fences, and some oilfield work.  Tyler is an easy-going country cowboy with a quick sense of humor and strong work ethic.  He looks forward to contributing to the Red Baker commitment to excellent customer service.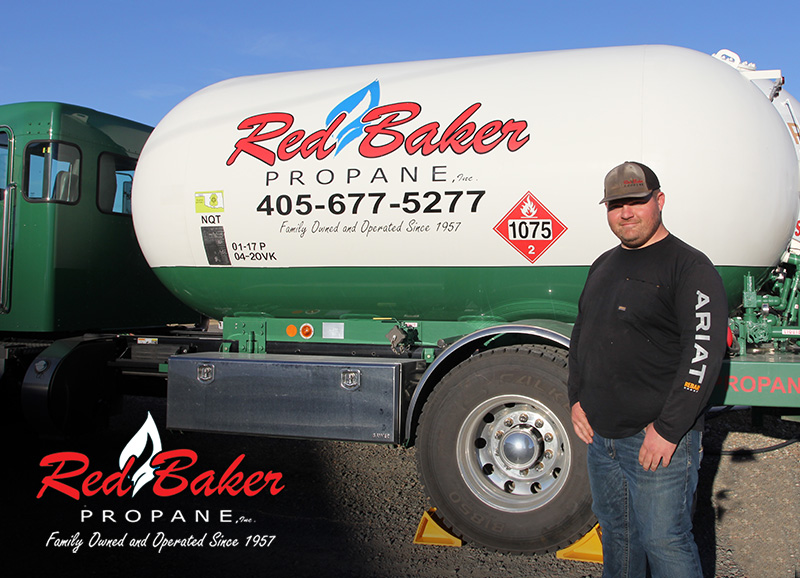 DAVE
Dave joined the Red Baker family in 2020 as a Bobtail Driver and Service Technician, but enjoys meddling in just about any project we throw at him. He has served our state for over 15 years providing utilities, including his roles as a low-voltage electrician and telecommunication contractor and Crew Leader for an electrical utility company before joining our team in order to be closer to his home in Norman. David was born and raised in Oklahoma City and graduated from Southmoore High School. He went on to OSU, earning a degree in Criminal Justice. Dave married his high school sweetheart, Ali, in October 2016 and they had their first child, daughter Tatum in March 2020. They have two dogs, Drake and Kona, and two pet donkeys. Dave enjoys riding their UTV and tinkering on old trucks.